Tucson Jewelry Shows Jump Start
at Tucson Expo Center
In the last 50 years Tucson, Arizona has become a capital of Gem and Jewelry Industry in the world. Every year Tucson holds the biggest jewelry event worldwide with 37 jewelry shows going on at the same time. This event attracts the largest amount of wholesale buyers from all over the world. Last year attendance was over 47 thousand people and this year is expected to be higher.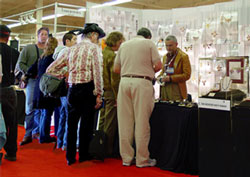 The product range is so diverse, itís almost impossible to describe. The J.O.G.S. International Gem & Jewelry Show attracts miners of every stone found in the world, cutters and manufacturers of precious and semiprecious stones, gold, silver, and platinum jewelry along with designers well known and unknown. At J.O.G.S. International Gem & Jewelry Show you can find the largest stones in the world, vases made of gold, jewelry fit for a queen, fountains made of malachite and the largest mammoth ivory tusks ever found. If it is unique, you can find it here.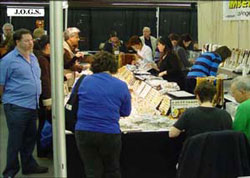 Dealers bring their largest stock to this show and some sell their product by the barrel. Tucson J.O.G.S. Gem & Jewelry Show is a place where you will find the latest gem and jewelry trends, see newly discovered stones, and to learn about the hottest products on the market. Dealers from all over the world come to celebrate the gem and jewelry trade covering every aspect of this diverse market. The J.O.G.S. Show is bursting with a mystical energy and a festive atmosphere. Buyer lists include department stores, chain stores, wholesalers, cruise ships, museum stores and museums, galleries, gift shops and boutiques, mom and pop stores, private collectors and even celebrities. The majority of the buyers come from U.S.A, Canada and South America, but you will meet buyers from all over the world. For most Tucson exhibitors and buyers itís not just a place of business but itís a fun place to be.
Show Location
Tucson Expo Center
3750 E Irvington Rd
Tucson, AZ 85714